They are smiling because of your generosity!!!
or
To give by  Zelle  directly to SBSG 951-808-2512 
To give by mail: 
SBSG Ministries 2230 Lake Park Dr. Space 166 San Jacinto, CA. 92353
 For more Information call:
951-808-2512 or 951-741-1641
Email: janrob2000@aol.com
or look us up on facebook.
Something Beautiful Something Good Ministries is a 501c3 non profit corporation. Recognized by the Federal Government. All donations are 100% tax deductible.
2021 Update
After overcoming health problems, including Pastor Jan's battle with breast cancer and Pastor Robert's battle with hepatitis C , Pastors Robert and Jan are ready to be back in the mission field that God has called them to. Even though much was accomplished from home through illness and during the pandemic in 2020, they are happy to be  arriving in Kenya in June and will depart back to the states in July of 2021.

The Well Project has been Completed! The Missionary house and compound is our current area of greatest need.
Our last project the digging of a new well is complete, thanks to generous donations. Clean water has been brought to the rural people of  Kenya!
To continue our mission, we are prioritizing the building of a missionary house and compound.  To ensure  safe accommodations for missionary teams to come serve and stay during our future trips we are raising funds for the construction of a missions house. More info can be found under "Get Involved", or donate now!
Something Beautiful Something Good Ministries
"For we are God's handiwork, created in Christ Jesus to do good works which God prepared in advance for us to do." Eph 2:10 NIV
SBSG is a Christ Centered Ministry Outreach operating under the headship of Jesus Christ. We serve with the sole purpose of fulfilling the words of Jesus, "I was hungry and you fed me, I was homeless and you gave me a room, I was shivering and you gave me clothes, I was sick and you stopped to visit me, I was in prison and you came to me." Matthew 25:35-36 (TMB)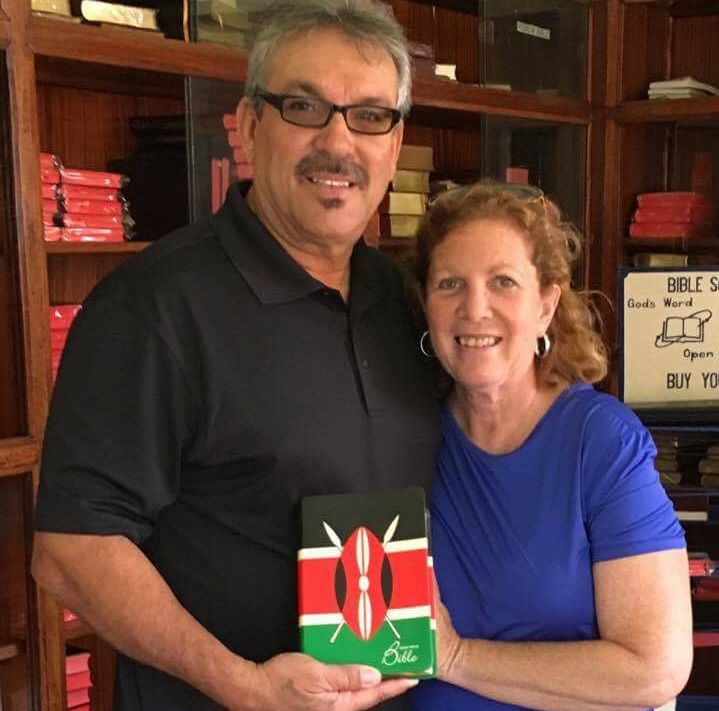 Pastors Robert and Jan Rodriguez President and Founders of SBSG Ministries are pictured here holding a Bible at the Kenya National Bible Society.  Bibles in both Swahili and English languages were purchased to be distributed to the village churches, men's prisons, and women's prisons.
Something Beautiful Something Good's
Core Ministry Targets:
#1 The Church: Strengthening the Kenya Church is a major SBSG goal. This is accomplished with God's grace by SBSG providing short term missions teams, seminars, and by training disciples.  SBSG also donates Bibles, training resources, and children's ministries' materials.
#2 The Village: Supporting remote Kenyan villages is of the utmost importance to SBSG. Aiding in arid desert regions with water tanks for water harvesting, supplying emergency food during drought conditions, and equipping village schools with books, and school supplies are just some of the ways SBSG helps.
#3 Education: Education is a limited and costly resource in Africa so SBSG is supporting village schools to help with children's school fees. SBSG is also creating vocational education opportunities for adults. Education is the key for sustainability and economic empowerment for the beautiful people of Kenya to break the cycle of poverty.
#4 The Prison: SBSG , while working with local Pastors, Chaplains and Prison Officials, has a flourishing prison ministry in Kenya.  Our Mission teams visit the prisons providing encouragement through testimonies and the preaching of the Word of God. Through many of you, God has used SBSG to donated Bibles for prison libraries, and distributed much needed hygiene items for the inmates, such as soap, toothbrushes and more.